LED LIGHT THERAPY
The deep penetrating and soothing LED lights are ideal for reducing the appearance of fine lines and wrinkles,
improving uneven skin tone, targeting active acne, and illuminating the skin.
By heightening your skin's internal function, LED Light Therapy will induce faster
healing making it the perfect treatment to combine with your other Skincare LASER Clinic treatments.
Both Yellow & blue light treatments are painless and non-invasive and can be performed in your lunch break.
• Painless             • Non-invasive             • Risk-free               • Safe & effective for all skin types
BENEFITS OF LED LIGHT THERAPY
Reverses sun damage
Anti-inflammatory
Reduces wrinkles
Wound healing
Scar reduction
Kills bacteria
Assists with pain relief
Reduces redness on the skin
Fights against Acne bacteria
Increases Collagen production
Promotes elastin production for tighter skin
Cell regeneration and renewal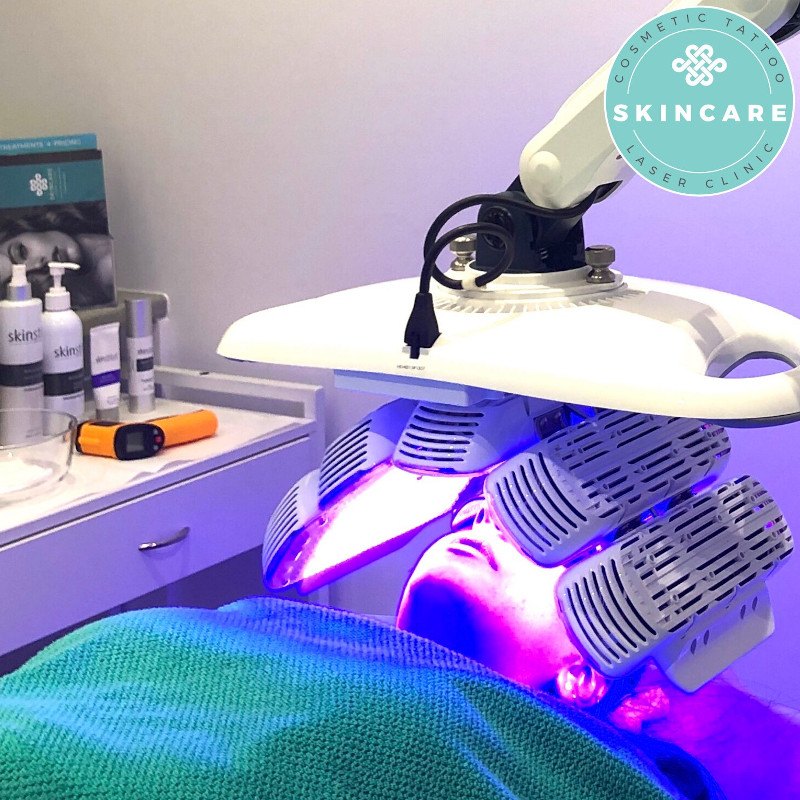 BLUE LED LIGHT THERAPY
Treat acne
Kill the bacteria causing acne 
Decongestant & Purifying
Active Acne (Endogenous PDT)
Our blue LED Light Therapy works effectively to target and improve inflammatory acne,
by eliminating acne-causing bacteria that lives on the skin.
Blue Light has powerful anti-bacterial properties that act as a decongestant and
purify acne prone and problem skin, while helping to normalise oil production.
The number of treatments required will depend on your individual goals, which will be discussed during your initial consultation. Typically, clients are treated two times per week over a period of time and many clients see and feel results after just one treatment.
There isn't any downtime from the standalone LED treatment. However, if LED Light therapy is an adjunctive treatment, there may be associated downtime to your other procedure. Your technician will discuss this with you during your consultation.
Each treatment lasts 15-25minutes. Relatively short, depending on your individual treatment plan. Typical treatments are fast and effective.
OUR NEW RANGE OF FACIAL TREATMENTS
GLOWING FACIAL
(50 minutes) (suitable for tired,dull, blemished and ageing skin)
+ Classic Microdermabrasion
+ Exfoliating & Hydrating  Enzymatic Peel
+ Rejuvenating LED light therapy
+ Electrolyte infused Brightening Complex  Hydrojelly Mask
PRICE  $150 was $240 save $90
TIGHT & TONED SKIN
(60 minutes) (suitable for premature ageing, open pores & sagging  skin)
+ Classic Microdermabrasion
+ Laser Skin Tightening
+ Rejuvenating LED light therapy
+Electrolyte infused Phyto-Nutrients Blast  Hydrojelly Mask
PRICE $150 was $240 save $90
ACNE FREE SKIN
(50 minutes) ( suitable for prone to acne , acne scarring ,congested  & oily skin)
+ Exfoliating  Acne Peel
+ Electrolyte infused Purifying Active Charcoal Hydrojelly Mask
+ Blue Light LED Therapy
PRICE $150 was $ 240 save $90
ADVANCED CALMING FACIAL
(60 minutes) (suitable for general facial redness & rosacea skin)
+ Laser For Flushing
+ Rejuvenating LED light therapy
+  Electorolyte infused Beta Carotene Floral Hydrojelly Mask
PRICE $150 was $240 save $90
YELLOW LED LIGHT THERAPY
Yellow light delivers a concentrated energy deep into the tissue affecting your body at a cellular level, stimulating greater collagen and elastin production. It targets deep into the skin cells to heighten their internal functions, photo stimulate dermal blood flow and induce faster healing and decreased pain. Low level light therapy is the therapeutic use of light to enhance your body's natural cellular recovery, improve healing times, relieve joint and muscle pain, subside active acne, promoting skin rejuvenation and more.
Wound Healing
Treat Rosacea/ Redness
Pain Relief
Muscle & Joint Pain
Arthritis
Skin Rejuvenation
OUR SKIN CARE RANGE
 Contact the clinic today to arrange your FREE CONSULTATION with our therapist!