Fine line & wrinkle treatment
What are anti-wrinkle injections?
Ageing results in lost of elasticity in the skin giving a looser, dull look. This can be due to simple genetics and how your skin changes over time but also a result of sun exposure, stress, smoking, alcohol consumption and dehydration. Anti-wrinkle injections can reverse these signs of ageing no matter what has happened to your skin in the past!
Anti-Wrinkle injectables are an effective way of softening fine lines and wrinkles. They are injected directly into the muscle that causes facial contractions and work by stopping facial nerves from sending the message to the muscle to contract each time you make a facial expression.
By reducing overactive muscle movement in the face, your skin becomes relaxed and gets a chance to recover from continual movement. The result essentially irons out your skin giving it a smoother younger look.
Skilled administration of injections means natural looking results, and our highly qualified cosmetic injector Monica Sternalski will consult with you to recommend the most suitable treatment for your particular concerns, be it anti-wrinkle injectables; dermal fillers or lip enhancements, for the most aesthetically pleasing and subtle results.
See below a list of all the different areas that can be treated with anti-wrinkle injections. At your consultation, our cosmetic nurse will talk you through the procedure, answering any questions you might have. Only when and if you are comfortable and ready, will your treatment start.
Lines and wrinkles on the upper face
Frown Lines (between the eyes)
Crow's Feet (lines on the sides of the eyes)
Horizontal brow lines
Eye brow lifts
Facial lifts upper and lower
Enlarging and opening up eyes
Softening lines under eyes
Softening the lines in the neck
Softening and improving drooping mouth corners
Facial contouring
Migraine management
Excess sweating in the palms, feet and under arms
Managing teeth grinding and associated headaches
Are side effects possible with anti-wrinkle injections?
Although side affects do occasionally occur, Monica will take particular care to minimise them.
Minor side effects include bruising, which may last 5-7 days, occasional redness or swelling, which usually goes in a few hours.
More significant side effects relate to dosage and positioning and that is why Monica continues to undergo regular training and upgrading to fine tune her skills.
These more significant side effects include uneven results, poor or failed results, puffiness around the eyes and even mouth or eye droop if the anti-wrinkle injections placement is inappropriate.
These more significant side effects usually improve in 2-4 weeks and can improve quicker with appropriate care.
Headaches and bruising are among reported, but rare, side effects. This will be discussed, along with expected results and any possible risks, with you.
F A Q
Is this treatment safe? 
The solution has been used for cosmetic purposes for over 15 years and for medical purposes for over 25 years. In addition to its cosmetic use, the solution has been used to treat cerebral palsy in children and movement disorders in adults. Although the anti-wrinkle injections have been used for many years they should not be used in pregnancy, lactating mothers and other medical conditions. It is very important to tell Monica if you have health problems or on any medications prior to treatment.
What to expect when you book in for injectables?
An extensive facial assessment. A discussion involving needs such as expectations, ageing, facial shape, finances and timing will be addressed. This way a personalised program can be created for you whether it is for a special occasion, to freshen up or for on-going age management.
 Cosmetic Injecting Process.
Cosmetic Injecting is a process where muscle relaxant, or hyaluronic acid, is injected to help lift sagging skin or disguise unwanted lines or wrinkles. Only superior and proven product will be used to achieve a long lasting results.
What is Anti wrinkle injections?
This is a product, made from purified protein, approved by the FDA to temporarily improve moderate to severe frown lines, crow's feet, and horizontal lines on the forehead.
How does Anti wrinkle injections work?
Anti wrinkle temporarily reduces muscle activity, relaxing the folds made by frowning or squinting.
How do I know whether Anti wrinkle injections or a dermal filler is right for me? 
We offer complimentary cosmetic consultations and will let you know if fillers and Anti wrinkle are appropriate for you. You will leave with an understanding of how they work, what the costs are, and what you can expect from your treatment.
What is involved in treatments?
The procedure only takes about 10 minutes and the discomfort is minimal and brief. After the injection, it takes about 5-7 days to notice the effect and 10 days for the full effect.
F A Q
What is the difference Between Antiwrinkle injections and filler?
Antiwrinkle injections are neurotoxins used to temporarily inhibit muscle contractions and thereby eliminate wrinkle around your eyes, across your forehead and between your brows for about 3 months.
Fillers are  hyaluronic acid which can add fullness to areas to enhance your look or to make you look younger instantly. Fillers can last up to 18 months
Are Anti wrinkle  injections painful?
You will feel a quick sting with each injection.
Which areas on my face can I have Anti wrinkle  injected?
The most common treatment areas are the forehead, frown line (between the eyebrows), and crow's feet, but Anti wrinkle may also be used to smooth areas of the neck and jawline.
How long until I can see the final results after my first treatment?
You will see results within 3 to 5 days in most cases.
Can I have an allergic reaction to Anti wrinkle ?
Allergic reactions to Anti wrinkle, though possible, are very rare.
Will I still be able to make facial expressions?
Yes. The effects of Anti wrinkle injections on muscle movement are subtle and limited to the treatment area.
How often will I need Anti wrinkle  treatment?
Every person is different. Your frequency of treatment will depend on your desired results. The average interval between treatments is 3 to 4 months.
There is no downtime with Anti wrinkle injections.  You can return to work or your regular routine immediately following treatment.
Can I have Anti wrinkle Injections along with other skin care cosmetic treatments?
Yes, we typically inject Anti wrinkle and fillers at the same treatment time, to maximise complementary results.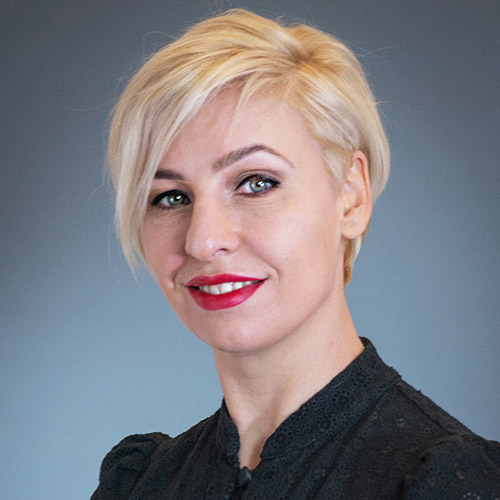 Monica Sternalski, your cosmetic injector
Monica is a qualified nurse who has over 20 years experience in treating skin conditions and aesthetics.
Monica worked intensely within the beauty and cosmetic industry, then embarked on teaching, before turning her hand to Nursing. Nursing has allowed Monica to integrate the discipline of medicine with a love of facial aesthetics. Monica will work with a client to develop a holistic treatment plan that will be customized to their natural identity. The intension is always to leave a person feeling positive about themselves. Finding the inner-self and celebrating what it is that YOU would like to be.
Monica also treats conditions such as excessive sweating (Hyperhidrosis), teeth grinding (Bruxism) and also assists with relieving migraines.
More than 20 years experience
Professional nursing career
Discreet consultation within a safe environment
Holistic approach to each treatment
Find out what these Anti-ageing treatments can do for you! Contact the clinic today to arrange your FREE CONSULTATION with Monica, our cosmetic injector!